Toravaig House
Sleat, Isle of Skye, Scotland, IV44 8RE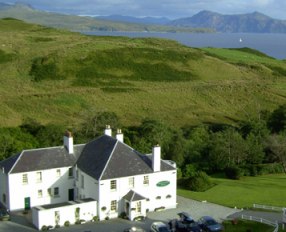 Welcome to Toravaig House Hotel and Restaurant on the beautiful Scottish Isle of Skye, the ultimate romantic retreat on Scotland's own 'paradise island'. Toravaig is a stylish, contemporary country house hotel situated in Sleat, the 'Garden of Skye' with magnificent views over the sea to the mainland hills beyond.
So when the hassle of the package holidays and the stresses of everyday life in a time pressured world begin to get to you, it's time to consider a quick escape. Perhaps a few days away with your most significant other is what you need. A time to relax, unwind and just enjoy being.
Whisk your mind and soul away to Toravaig and Skye. Book a delightful cosy bedroom in a lovingly restored house, now a very special little country hotel, one of the very finest small luxury country house hotels in Scotland.
Your body will not want to leave. And your heart and mind will fill with quite stunning, unforgettable memories. So if you want to experience the ultimate in Scottish history, heritage, spirit of adventure and glorious scenic extravaganzas, we are here for you. We'll be the guidebook – just don't forget the camera.
How to find us
Toravaig House
Sleat, Isle of Skye, Scotland, IV44 8RE