Loch Fyne Hotel & Spa
Inveraray, Argyll, PA32 8XT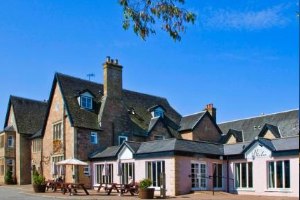 Overlooking beautiful Loch Fyne in the Historic town of Inveraray. Loch Fyne is the ideal setting to relax and enjoy the surrounding area.Our restaurant and bistro is know for it's great food and the hotel itself is well know for it's customer service.
The Loch Fyne Hotel has been extended to include a 15m swimming pool with sauna and steam-room as well as spa bath.
We also have a spa that offers a wide range of treatments during your stay. Guests also have the choice of standard rooms or superior rooms or for that special occasion we have two suites which come with fresh fruit,bathrobes, slippers and other little extras, not to mention stunning views across the Loch.
Breakfast & Dinner is served in the Clansman restaurant where there is the choice of traditional Table d'hote menu or a la carte items. . .
How to find us
Loch Fyne Hotel & Spa
Inveraray, Argyll, PA32 8XT