Dunstane City Hotel
5 Hampton Terrace, Haymarket, Edinburgh, EH12 5JD

Dunstane City Hotel sits on the opposite side of the road from Dunstane House but has a different feel. Expect a smart boutique chic hotel but at a pocket-pleasing price. Great for business, even better for pleasure. Located in the west end of Edinburgh, we are are just a short walk from the city centre.
Accommodation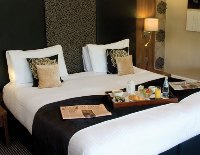 Stretch out in style...
Dunstane City is a luxury boutique hotel and all 18 bedrooms are unique and refreshingly different to regular chain hotels.
Bedrooms at Dunstane City offer a fuss-free environment for relaxation. Comfy armchairs let you unwind in front of the television. Bathrooms provide invigorating showers and soothing baths. Super King- and king-size beds welcome you back each evening for a well-earned rest after days of business appointments or holiday sightseeing.
Facilities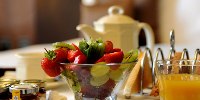 Dunstane City has its own bar with a range of malt whiskies, as well as a garden conservatory, where you can relax over a coffee with a good book or the day's papers.
Guests at the hotel can take advantage of City's proximity to its sister hotel, Dunstane House's Skerries Restaurant and Stane Bar.
How to find us
Dunstane City Hotel
5 Hampton Terrace, Haymarket, Edinburgh, EH12 5JD