Cally Palace Hotel
Gatehouse of Fleet, Dumfries & Galloway, Scotland, DG7 2DL
Cally Palace is a golf hotel in Scotland set within stunning grounds. The beautiful setting, peaceful and relaxed ambience, and the impeccable level of service make the Cally Palace Hotel a very special place. Enjoy the indoor and outdoor leisure facilities, such as exclusive use of the 18 hole Cally Palace Golf Course - just 50 yards from the breakfast table to first tee!
Accommodation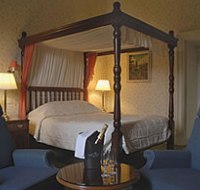 Entering through the oak doors, the grandeur of the interior is immediately apparent.
Two huge marble pillars frame the entrance hall, which leads into the Bow Lounge with its magnificent gilt cupola ceiling. The warmth of the Scottish welcome will impress as much as the opulence of the surroundings.
All 56 comfortable ensuite bedrooms and suites have been furnished in a traditional style, but with all modern conveniences including satellite television.
The little touches make the difference - from the complimentary sherry on arrival to the fluffy bathrobes and huge bath towels.
Fine Dining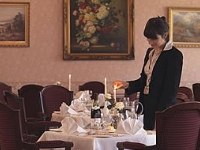 Our elegant Scottish restaurant dining room is complemented by first class cuisine.
The Chef and his team use only the freshest and finest of Dumfries and Galloway produce, including wild Solway salmon, to prepare memorable meals.
During dinner the pianist will be delighted to play your requests, while the attentive and friendly staff try to anticipate your every need. Gentlemen are required to wear jacket, collar and tie in the evenings.
Leisure Facilities
The indoor leisure complex includes a 15 metre heated swimming pool, spa bath, sauna and air conditioned gym. In addition to the Leisure Complex, the snooker room, pool table and table tennis are available to guests within the Hotel.

How to find us
Cally Palace Hotel
Gatehouse of Fleet, Dumfries & Galloway, Scotland, DG7 2DL